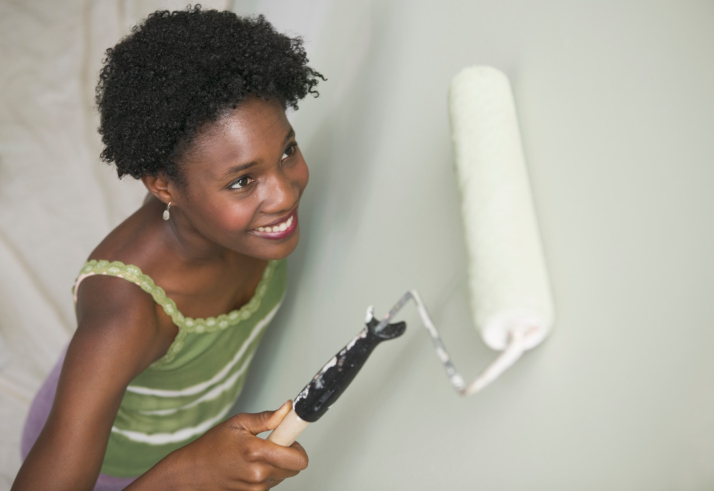 Whether you happen to be a painting pro or you've never dared to pick up a roller, there are a few tricks of the trade that professionals use to make a paint job look its best. If you want to take an old, outdated paint job and turn it into something you can be proud of, here are a few tips from those who know best.
Start With A Perfectly Smooth Surface
If you're trying to rush through it, sanding might seem like an unnecessary step in re-covering your walls, but it's very important in order to level out the spackle paste and ensure that no ridges will appear in the paint around the nails. According to one professional painter, you should start by sanding from the baseboard to the ceiling with a fine grit sandpaper, and then move on to a horizontal sand that will make for a smooth wall finish.
Forget About The Plastic
The proper floor coverage while painting is just as important as the paint when it comes to getting the job done properly, so opt for a large canvas cloth instead of linens or plastic. Paint on linen can sink through to your floor and stain it, while paint on plastic takes a long time to dry and may end up smearing all over other things. A canvas cloth will keep any paint splotches away from your floor and ensure they aren't tracked throughout the home after they fall.
Stick To One Wall
It can be tempting to get done the rudimentary step of completing the corners and trim before you move on to painting, but this can actually make for a less smooth finish. Instead of finishing one task at a time, complete the corners and trim on one wall and immediately reach for the roller. This is something professional painters do to ensure that the brushed and rolled paint will blend together more seamlessly.
There are a few simple steps you can follow when painting a room that will make it look like a professional did the job. By using a canvas cloth to cover your surfaces and sticking with one wall until the job is done, you should have a smooth new surface you can be proud of. If you're currently painting your home and preparing to sell, you may want to contact one of our local real estate agents for information about your options on the market.