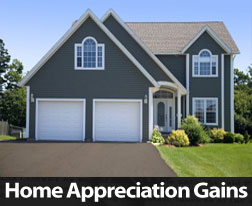 According to the Case-Shiller 20-City Home Price Index for February, month-to-month home prices increased by 0.50 percent from January's reading and achieved the highest year-over-year gain in six months. Analysts expected February home prices to increase by 4.80 percent. David Blitzer, chairman of the S&P Dow Jones index committee, said that home prices continue to rise and outpace both inflation and wage gains. Although this is great news for homeowners, it also demonstrates the challenge of affordability for home buyers.
Year-Over-Year Home Prices: Denver Leads in Home Price Gains
Home prices in Denver, Colorado increased by 10 percent year-over-year in February; San Francisco, California home prices gained 9.80 percent year-over-year. Miami, Florida home prices gained 9.20 percent year-over-year. Dallas, Texas and Portland, Oregon rounded out the top five cities with the highest year-over-year home price appreciation in February. Home prices in Dallas increased by 8.60 percent, while and Portland's home prices gained 7.10 percent year-over-year.
February readings for year-over-year home price growth were lowest in Washington, DC at 1.40 percent. Cleveland, Ohio and New York, New York posted year-over-year gains of 2.30 and 2.50 percent respectively. Phoenix, Arizona home prices grew by 2.90 percent and Minneapolis, Minnesota home prices gained 3.10 percent year-over-year.
Chicago, Illinois and Detroit Michigan posted year-over-year gains of 3.40 percent and 3.7- percent. Both cities have shown the smallest gains in prior months but home prices are gaining in year-over-year readings.
San Francisco Tops Month-to-Month Home Price Growth
Price gains from January to February 2015 were led by San Francisco, California with a reading of 2.00 percent. Denver, Colorado home prices gained 1.40 percent; Seattle, Washington home prices gained 0.80 percent, and were followed closely by a gain of 0.80 percent in Los Angeles, California and a tie at 0.70 percent for Portland, Oregon and San Diego, California.
Cites showing negative readings and the lowest month-to-month price gains in February were Boston, Massachusetts at -0.20 percent; Cleveland, Ohio at -0.10 percent. Chicago held steady with 0.00 percent gain and Atlanta, Georgia and Minneapolis, Minnesota posted month-to-month gains of +0.10 percent.
Home prices remained about 16 percent below their 2006 peak at the end of February.